When shopping for a watch, there are many ways to go about it. You can go to stores or shop online. This is why we wanted to provide you with our Top 10 Best Websites to Buy Watches Online. On this list, you will find many website options to get to the watch of your dreams, some you know very well and some you might discover. Check these amazing websites out and let's get watch shopping!
1. Amazon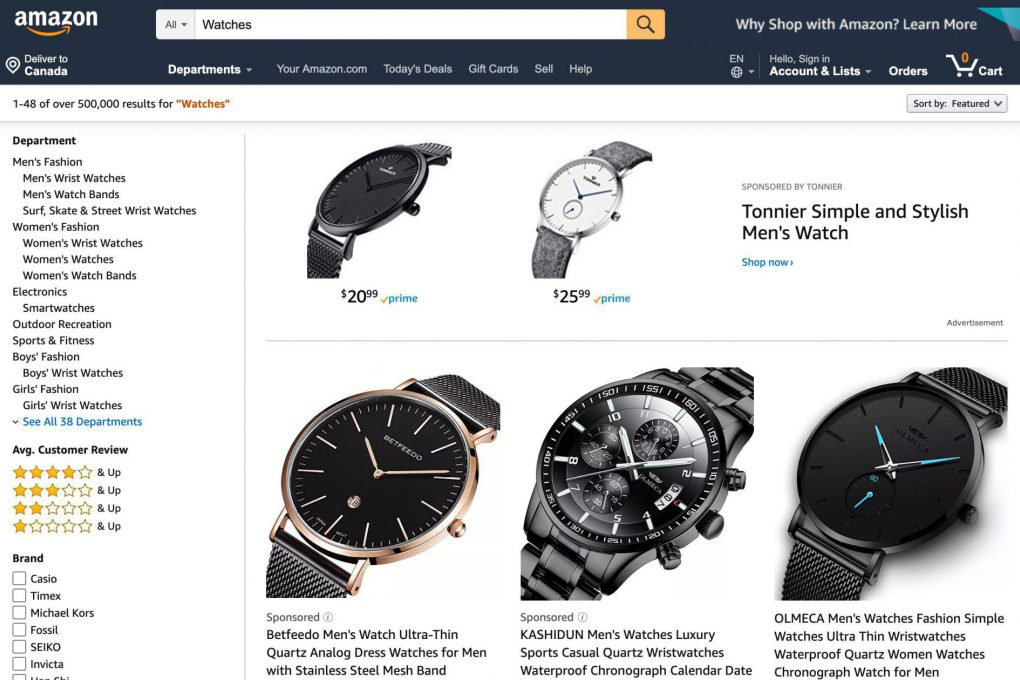 How could we discuss online watch shopping without mentioning Amazon.com? Not only can we find pretty much anything on Amazon, but also a great selection of amazing watches including numerous brands and price points. Not only is the watch selection almost infinite, Amazon makes it very easy to search for watches. Just click departments, head to the Men's or Women's fashion category and boom, watches appear! Not easy enough? Well than, you can narrow your search by choosing customer reviews - by number of stars, brands you like, price point you are comfortable with, style you are looking for and a lot more. All of these features are just a little click away!
2. Jomashop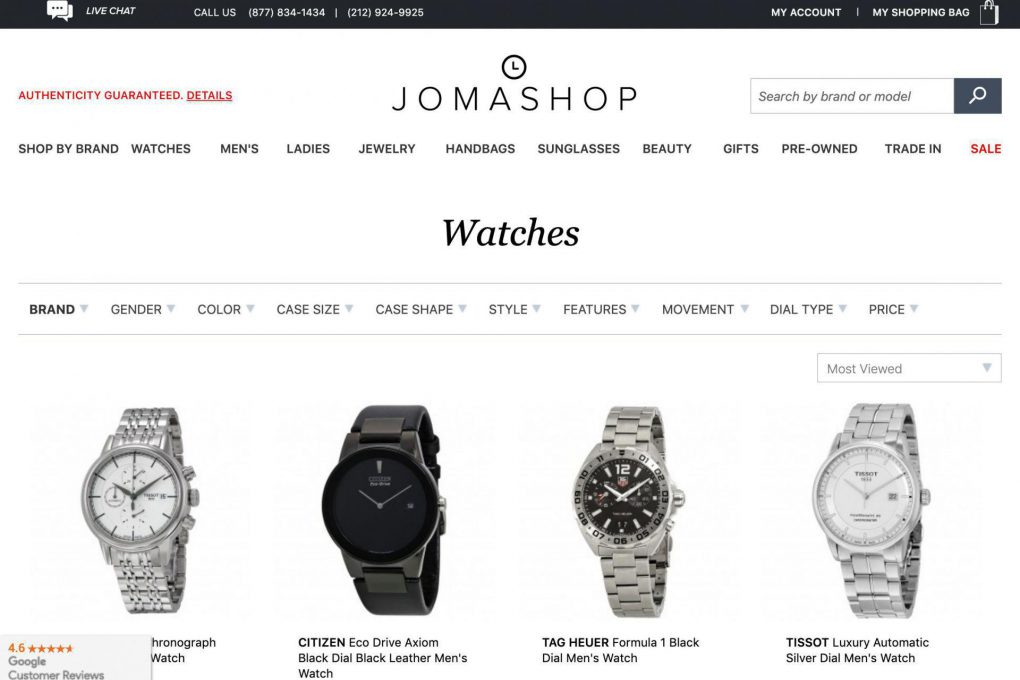 Jomashop.com is a great, extended, online retailer. The company has been around for over 25 years and also excels in wholesaling. You can find, on this website, a lot of fabulous fashion staples like : jewelry, handbags, sunglasses and of course watches. With a fulfilment center based in New York City, you can count on easy international shipping. The watch selection on Jomashop is pretty impressive, and so are the discounts they offer on their watches. There is even a diverse range of pre-owned high-end watches, like Rolex and Cartier, if this is of interest for you. What we also like about Jomashop is that there is a live chat available for any questions you might have on your favorite watch!
3. Ebay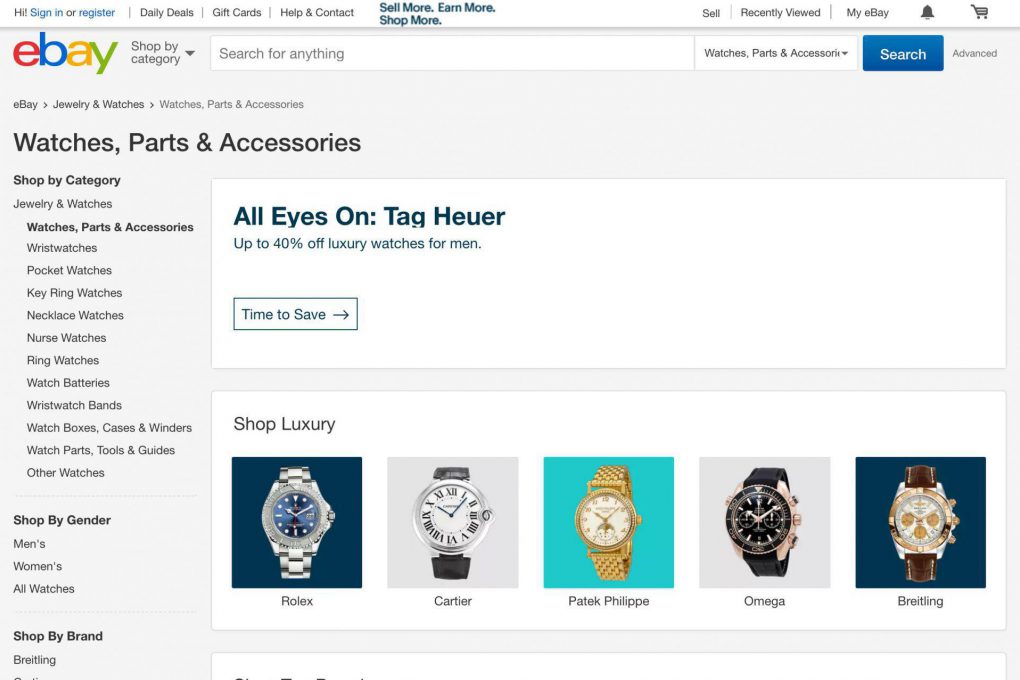 Alright, let's not pretend we don't all know and love Ebay.com! Just like Amazon, this massive online retailer offers endless possibilities. Go straight to the Watches category, select the brands and styles you like and get ready to see countless options appear on your screen. Scroll down the page to have access to a short detailed guide on how to choose your watch and what choices are offered to you when shopping for a watch. A little extra help to make sure you choose the right watch for you! What is also great about Ebay is that not only can you buy stunning watches, but you can also sell the ones you do not want anymore, all at the same place!
4. Watches.com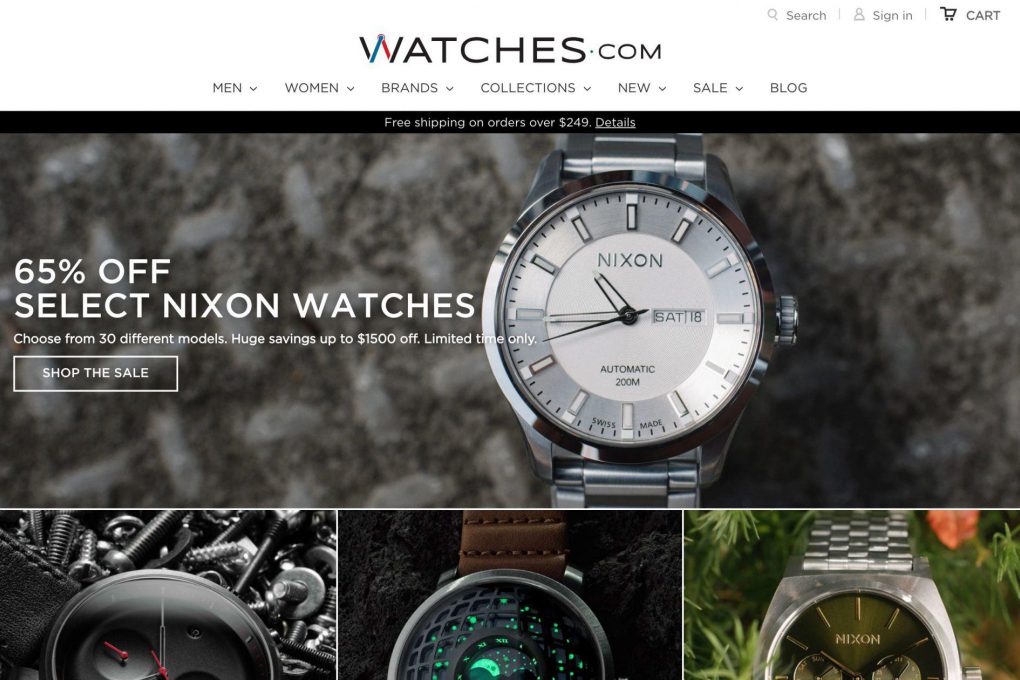 Watches.com is definitely a cool spot to check out when looking for a watch. They feature over 60 brands of watches, that you can shop by color, brand, style, etc. making it really easy to narrow down your options and fit your specific requirements. They offer a very wide variety of style ranging from classic to super funky. What is also really nice about Watches.com is that they offer free shipping on all orders over 199$. As well, they have a Sale section where you can find amazing deals starting as low as 25$. Finally, stay up to date with news on your favorite watches and brands in the Blog section.
5. Bob's Watches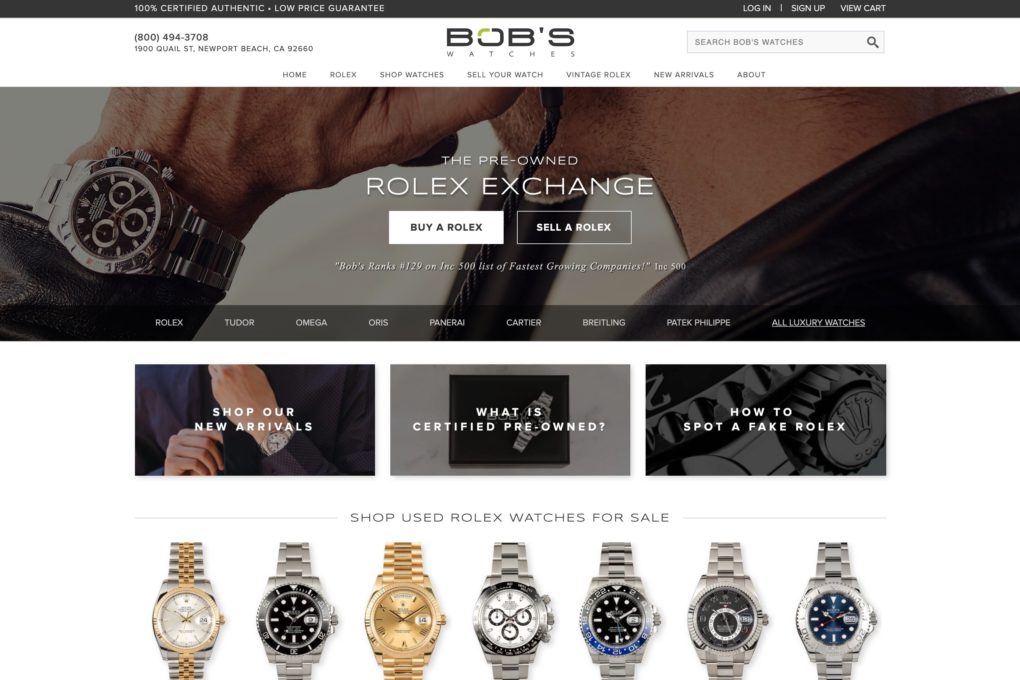 Founded in the mid 1990's, Bob's Watches set out to do something different : creating a website where customers can not only buy, but also sell and trade Pre-Owned Rolex watches. Since the last three years, Bob's Watches is one of the largest watch reselling websites in the USA.
If you are looking for a Rolex watch and don't mind it being pre-owned, this is the place to shop. In addition to their own guarantee, all Rolex watches sold on Bob's Watches are "certified pre-owned". Established in California, Bob's Watches does research all of their watches and takes the time to properly evaluate them, makes sure they are authentic, compares them with current market value, etc. so that you get the best timepiece at the best price.
In order to make sure you do get the Rolex watch you wish to buy, Bob's Watches carries a large inventory of watches. Everything for sale on their website is authentic and is actually physically in their inventory already. Therefore, no disappointment! This online marketplace is the place for buyers and sellers to meet and make business together.
6. The Watch Hut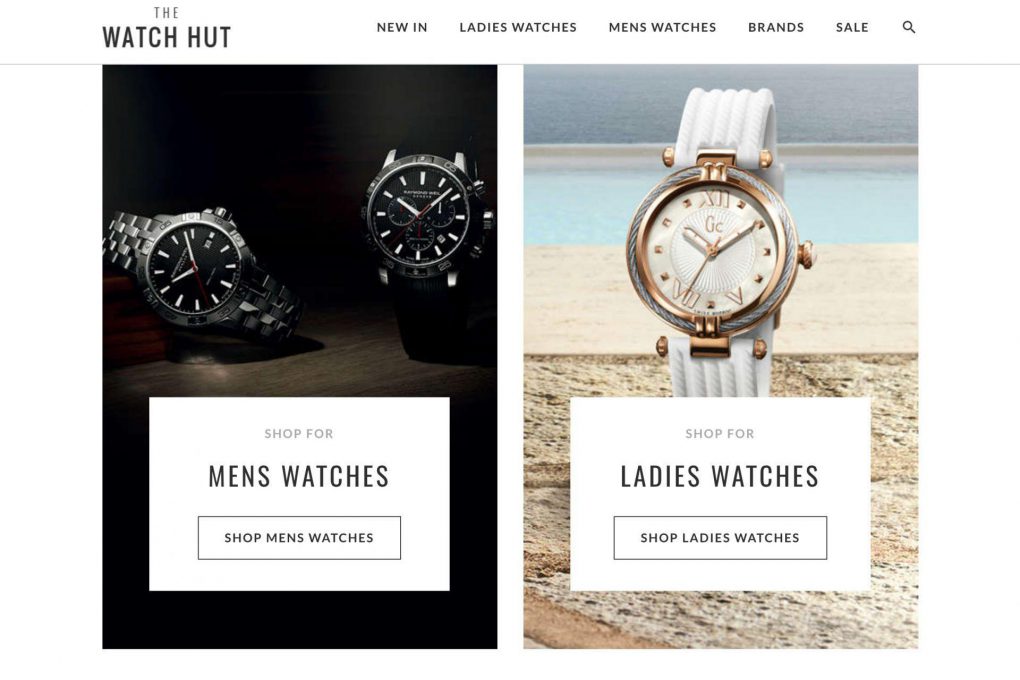 Calling all of our UK and International friends! Don't worry, North Americans are not left out either, as The Watch Hut ships internationally. The Watch Hut is a very beautifully designed, easy to navigate website for watch shopping. It was launched in 2005, in the United Kingdom. It promotes efficient shipping, free returns, price matching (see details), etc. Also, any watch you buy on this website will come with its manufacture warranty as The Watch Hut is partners with all of the brands they sell. Plus, you can sign up for their newsletter and get 10% off selected models on your first buy! How can we say, this website is bloody brilliant!
7. Neiman Marcus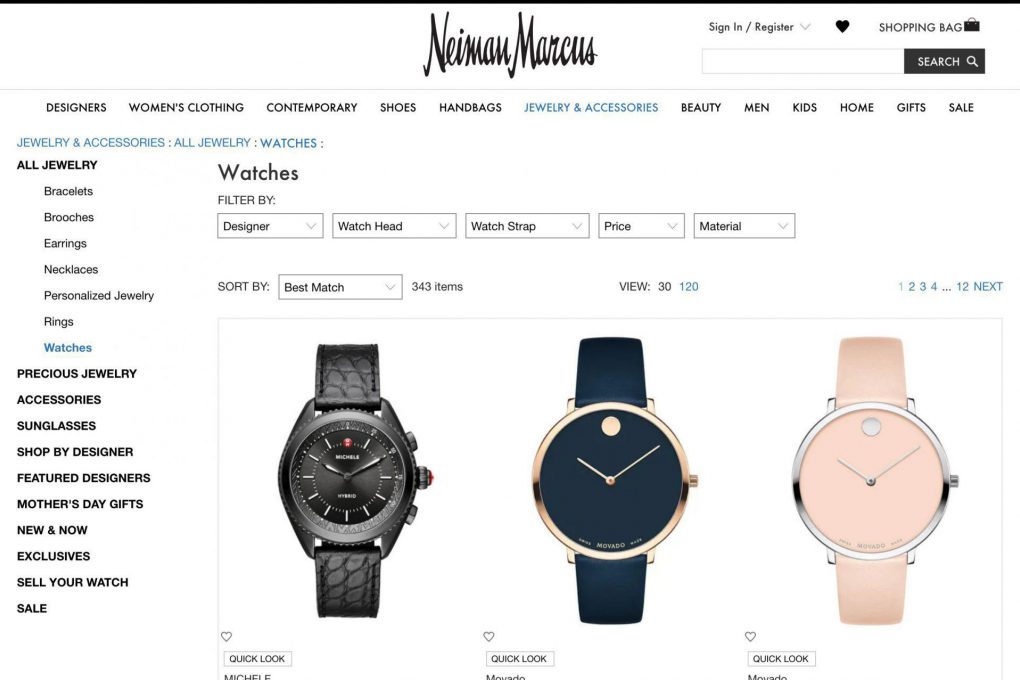 Neiman Marcus is a really nice choice as well when it comes to website that provide lots of watch options. Under their Jewelry section, you will find all the available watch brands Of course, Neiman Marcus provides lots of designer brands when it comes to watches. Their website is easy to navigate and it does give out lots of information on the watches, which will help you make a clear choice. It also covers all of North America in terms of shipping, including both the USA and Canada. What's also fun about Neiman Marcus is that you can click the little heart next to the watches you like to create your own favorites list. Then, once your options are narrowed, it makes it easier for you to choose the one for you. Check it out to have access to beautiful and extravagant designer watches.
8. Macy's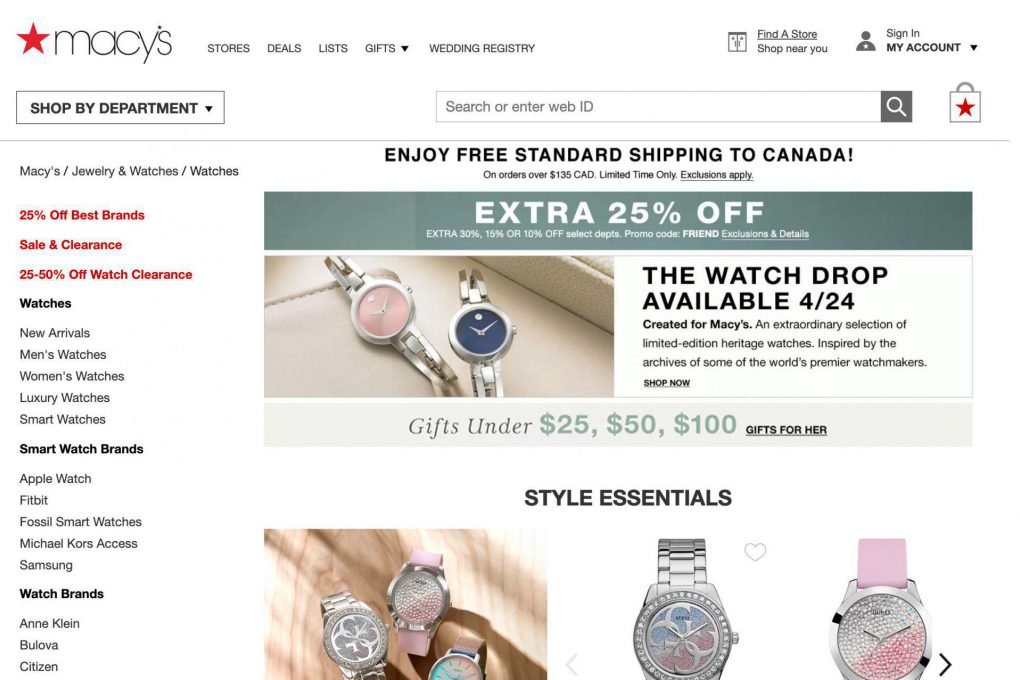 Macy's.com is also a great website to visit when shopping online for a watch. It's website has an entire section dedicated to watches. Macy's offers smart watches, luxury watches and everything in between. It also provides information about certain watches through guides and videos, now that's helpful! A great advantage also is that Macy's now ships to Canada, covering not only the USA, but all of North America. Don't forget to check out the sales clearance section for surprising deals.
9. Ashford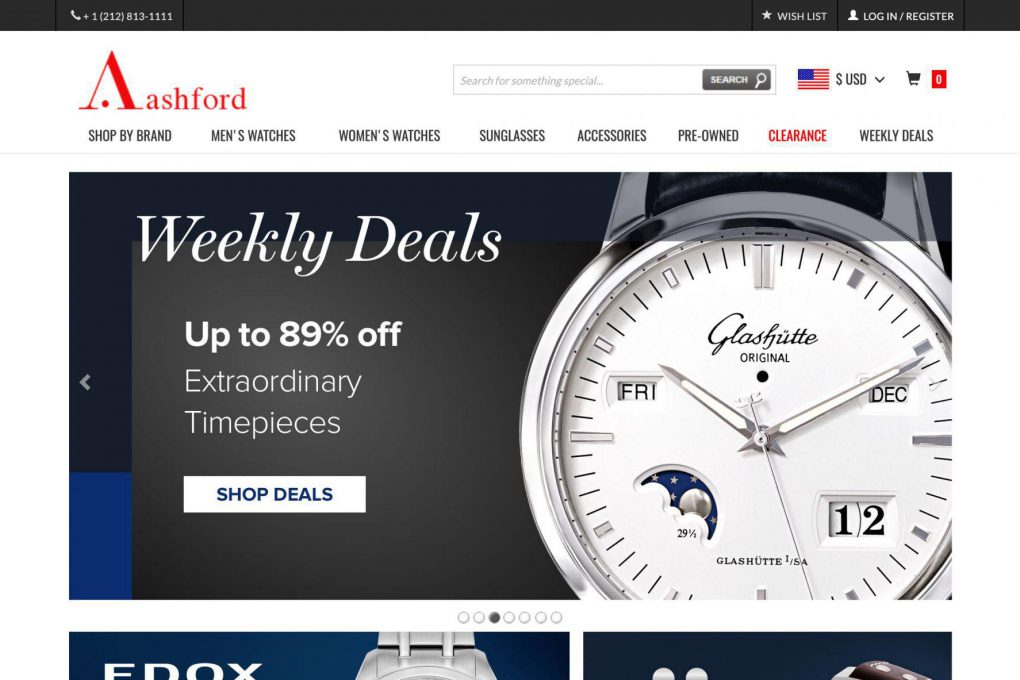 Ashford.com is an American online retailer, with headquarters based in New York City, on its famous Fifth Avenue. This website mostly offers watches, but also a selection of sunglasses and fashion accessories. The company was created in 1997 and bought by a parent company in 2007. Since they opened, over 20 years ago, they proudly have acquired over 1 million customers. Ashford proposes a large variety of watches, all at a discounted price All of the watches they sell come with their two-year extensive warranty. This website also provides pre-owned options, at discounted prices, if this is what you are looking for. A great point about Ashford is that it is easy to look for a watch as their are many filters to choose from, so that you can narrow your search and get right to the watch of your dreams!
Ibwatches is watch marketplace to watch it currently available in 30 countries.